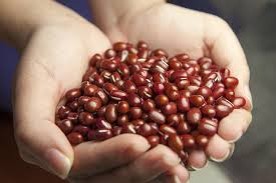 Good azuki(red beans) makes anko(red bean pastes) more squishy and delicious.
The preparation is very important. What sets good azuki(red beans) from others is whether it is fresh or not.
If you use old azuki(red beans) no matter how long you boil them, it's still stiff and it loses anko(red bean paste)'s flavor.
In this article, I will tell you how to choose fresh azuki(red beans). I hope it will help you save time and make delicious anko(red bean pastes)
1 reddish azuki … It turns its color from green to dark purple as the heat goes through it. Chose the reddish azuki, with the color of mixture of dark purple and brown
2 with luster … As time goes by, it loses its luster. Make sure that your azuki(red beans) has rich luster so that you can make its skin squishy.
3 same size … Make sure that there's not so much difference in size, not cracked or worm-eaten.
4 with white bud(the part that is not red) … The white part of azuki(red beans) is called bud. As time goes by, it becomes yellow or brown. White bud means this bean is fresh.
If you use old azuki(red beans), it will take more time and its skin remains stiff. Choose fresh azuki(red beans) and make delicious and sweet anko(red beans pastes)
Articles from Rie Morita, Morita Farm (A-Net Farm Tokachi Co.,Ltd).
URL  http://www.azukilife.com/