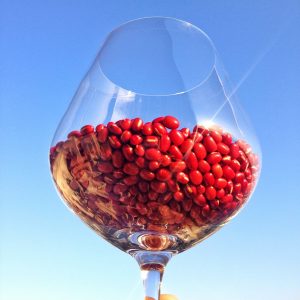 Even thought red beans are small, they have enormous power to keep you beautiful. There are several ways to stay healthy and keep your beauty, such as not exposing your skin to ultraviolet lights, maintaining the condition of intestines, moisturizing, sleeping well. However, in reality, those things are not easy for us to do on the daily basis. It is also said that absorbing ultraviolet lights, smoking, drinking too much are the factor in deteriorating your health and beauty.
And there is one thing that you can do easily. Eat Azuki!!
Azuki includes 1.5~2 times as many polyphenol as red wine.
Polyphenol is known to destroy active site of enzymes.
Active site is the region of an enzyme which gives you the immunity against the alien virus, just like white blood cells or macrophage. Therefore, active site of enzyme, in and of itself is not harmful. However, the extremely high bactericidal power it has sometimes destroys the other cells and aggravates our conditions.
In short, the active site oxidizes the unsaturated fats and generates harmful lipoid peroxide, which destroy our cells.
The factors in increasing the active site are
Ultraviolet light
Smoking
Drinking alcohol
Excessive exercise (Because breathes create the active site.)
Stress
Disorganized diet style (Because the active site is created during dissolving the tissues)
Contaminated air (Because the active site is created during dissolving the contaminated substance)
In order to prevent active site from increasing, it is crucial that you maintain the healthy life style and sleep well. However, it is not possible to prevent all of them, so it would be important for you to take antioxidant substance.
Azuki includes a lot of antioxidant polyphenol. Polyphenol is created when plants photosynthesize in order to counteract the active site, which are generated by the attack from insects or ultraviolet lights. This is the protective substance and that's why plants live longer than creatures.
100g Azuki contains 300~600mg polyphenol while the same amount of red wines contains 300mg.
The good proportion of polyphenol in Azuki consists of catechin. Catechin is famous for the substance that green tea has. 100g green tea includes 115mg polyphenol and Daihuku or Ohgi also have 200mg. It would be effective to eat Azuki along with them.
It is estimated that you need to take 1500mg polyphenol to stay young.
The effect only last 2 ~3 hours at best so I recommend you take them several times a day.
If you eat
Daihuku(70g red beans paste)   = 90mg polyphenol
Green tea (2 cups)  = 230 mg polyphenol
Total 440 mg polyphenol in sweet time.For your reference,
Ohagi(red beans paste 30 g)  = 90mg polyphenol
Ooban-yaki red beans paste 50g)  = 150 polyphenol
Just remember that 100g Azuki = 300mg polyphenol

You take around 1000mg polyphenol in average meal. By eating Azuki, coffee, green tea, you can stay young and healthy!!